Submitting Your Work to Steward House
Steward House Publishers only accepts manuscripts that have been edited to a sufficiently professional level at the time of submission. Authors have the responsibility to ensure that their submission is free from careless errors.
All submissions must contain either a full manuscript (preferred) or a partial manuscript that includes at least three sample chapters, a cover letter, and a synopsis of the whole manuscript. The author's name (and pen name, if applicable), the anticipated title and genre of the work, and the word count should appear in the cover letter, as well as standard contact information. The submission should be sent as attachments in an email to submissions@stewardhouse.com. (Note: If the total size of the attachments will exceed 2 MB in size, please contact us at support@stewardhouse.com for instructions.)
Typical Submissions
Steward House generally publishes works between 80,000 and 150,000 words in length, and is open to a variety of genres, both fiction and non-fiction, if the writing shows skill and care with words. At this time we are not accepting book proposals: only finished manuscripts will be considered for publication. We are not interested in and will reject outright any submissions of an autobiographical or poetic nature.
Due to the volume of submissions received, response time to submissions varies, but an author can expect that a response will likely be received in 4 to 6 weeks.
Any submissions received that do not conform to the above guidelines will be rejected.
Featured Publication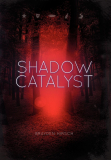 Title: Shadow Catalyst
Publication Date: Saturday, August 19, 2011
Publisher: Steward House Publishers
ISBN: 978-1-9370970-5-9
Book Type: B&W 9x6x1 Hardcover
Page Count: 372
Price: $24.99 USD
Suppressed memories and a serial killer with a grudge bring one man to the lake of his childhood dreams-or nightmares. A wintry storm and a woman with too many secrets send a young truck driver to prison for a crime he did not commit, and he's forced to play by her rules if he hopes ever to make it out. An otherworldly disaster descends upon San Francisco, leaving only one man to stop it-the same man who brought it. Brayden Hirsch makes his debut with this stunning combination of mystery, suspense, and the paranormal. He paints the West Coast as a darker reality, where things are always as bad as they seem.
Order the book from: Amazon or Barnes and Noble.
See other books offered from Steward House Publishers.